About Chaney Appliance Repair
CHANEY IS THE APPLIANCE REPAIR EXPERT TO CALL IN THE TAYLOR COUNTY AREA!
Why Chaney?  To answer that question let's meet the owner, Gary Chaney.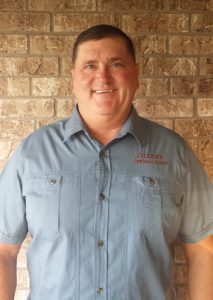 Gary has over two decades of experience in appliance repair service, repairing home appliances of most brands and models. Refrigerators, dishwashers, ranges, microwaves, water heaters, window A/C units, washers, dryers and many other appliances.
Gary started learning his trade by attending Texas State Technical College, in Sweetwater, studying major appliance components, the operation of switchboards and of all of the electrical components that are involved in the proper operation of appliances.
After completion of his studies, Gary then went to work for Sears in the West Texas area where he served as an on-call service tech. While performing the duties of this job, he has gained valuable experience in the repair of a variety of home appliances. Also, he's attained valuable experience in troubleshooting, and a quick diagnoses can mean savings for his clients throughout the area. He has worked on appliances of residential and of commercial grade during these years. Combine all of this experience and it is easy to see that he has what it takes to know what it will take for repair and he knows when the time has come for replacement. Chaney Appliance Repair has the experience to provide a trustworthy service to those living in and around Abilene, including those in Taylor County and the neighboring counties.
Chaney Appliance Repair Services, Achieving Goals:
Our goal at Chaney Appliance Repair is to repair you appliances correctly.  We utilize some of the most up to date technology to quickly diagnose the issue that you are having.  This quick diagnosis helps you to save money on overall repair costs.
The appliances of today have more electronic control boards, or modules, that control the required operations.  These control boards often go bad and can cost hundreds of dollars to replace.  Chaney Appliance Repair service has worked with various suppliers and Gary knows where to find the most cost effective parts to return your appliance to working order.
We strive for satisfaction for every customer, every time. 
Not sure if we work on a particular appliance?  Give us a call!  Gary can make repairs to your appliances in your home. This saves you the cost, and the hassle, of making arrangements to remove and drop off appliances. Call us today to make arrangement for the repairs you need.
If you have old, out of use appliances that you would like to have removed, Chaney Appliance Repair service will pick those up and get them out of your way. Just give us a call at 325-387-7984 to make arrangement.
Business Hours:
Mon-Fri   8:00 a.m. –   5:00 p.m.